Description
2020 RCA2 PRO Aero Series
Gusto builds the entire fame of its 2020 RCA2 bike using 100% Japanese Toray's Torayca T-800 carbon fiber with a high rigidity modulus and collaborates internationally with Dutch TU Delft in design. While developing every part of the frame, Gusto strives for an exceptional expression of the RCA2 regarding the impression of riding, in addition to the full manifestation of European fashion trends.
For power, Gusto collocates a whole Shimano R8000 Shifting Kits, originating from Japan, with the Attaque 50mm high-profile low-drag CARBON Tubular wheelset, which minimizes the frontal area of the RCA2 bike. Combining these advantages, the RCA2 is not only a high-performance road bike able to cleave the wind, but also a wild racing horse in road bikes which enables us to bring out the best pedaling effectiveness for long-distance touring races.
 Ultimate Tensile Strength Lab Approval (UTS)
To build a quality carbon fiber frame, Gusto not only uses premium carbon fiber with a high rigidity modulus originating from Japan, but also establishes the UTS Lab (Ultimate Tensile Strength Lab Approved) rigidity standard and performs rigidity, fatigue, and omni-bearing impact tests on every part of the frame based on the high-load mode which is stricter than the current CEN standards of the EU. At the same time, Gusto establishes strict deformation determination criteria to ensure the safety and quality of the Gusto carbon fiber frame. Gusto is proud to provide life-long warranty for every frame.
Drag Free Aero Technology (DAT)
The exclusive patented of the RCA2 bike series is an achievement of international collaboration in design with Dutch TU Delft. It enables Gusto to focus on building every part of the bike through an integrated concept to demonstrate the streamlined and elegant shape of the RCA2 bike.
Integrated Bottle Cage Design
The special streamlined shape minimizes turbulence and resistance in the seat tube and down tube.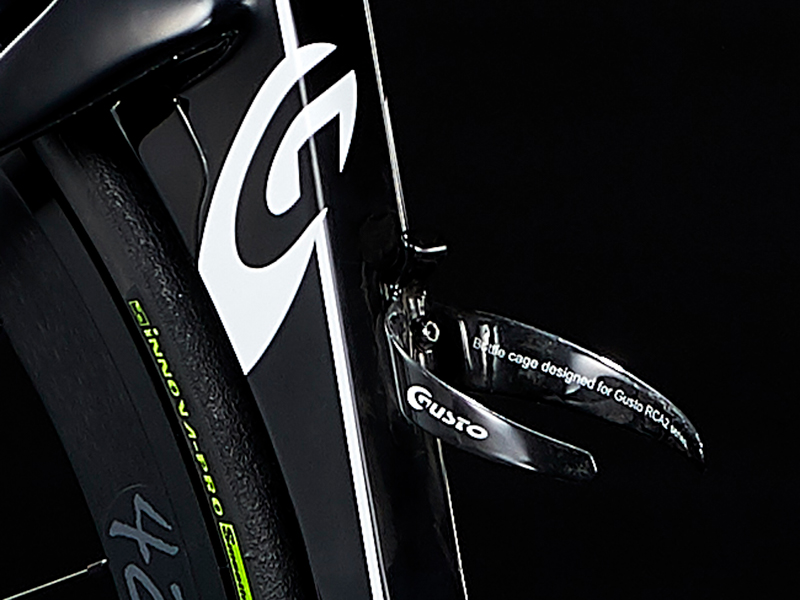 Seamless Seat Clamp Design
The outstanding design hides the seat clamp in the frame to minimize the turbulence and resistance of the top tube.
Enlarged Tapered Headtube and Bottom Bracket Design
The tapered headtube design of 1-1/8~1-1/2 fully improves the rigidity modulus and provides more stable operating performance.The ribbed bottom bracket has an eye-catching appearance and perfectly transfers the pedaling power into sprint power.