Description
2021 THE BRAND-NEW DISC BRAKE MODEL – RANGER DISC
Outstanding, the perfect design of Asymmetrical balance. Dominate of the same level bikes.
Asymmetrical Painting Design
Asymmetrical balance strategy perfectly achive dualtone concept , created a new bicycle colour trend-【2IN1】2 colour in 1 bike.
INNEGR  and Japan's Torayca T1000 Carbon Composite Technology
The body material is made of the highest-grade Japanese-made carbon fiber material T1000, coupled with world's lightest high-performance fiber INNEGRATM. The combination of high-tech materials has greatly improved the rigidity of the frame and the stability of shock absorption.
ASYMMETRICAL BALANCE TECHNOLOGY
As the tread of the transmission system are located on the right side of the frame, we do increased size of bb part and right rear fork to substantial increase the rigidity of the frame, effectively reduce the stress deformation, reduce power loss, to achive [Asymmetric] Perfect balance.
AURORA NANO PAINTING
ANP Aurora Nano Paint In addition to increase the product scratch & dirth resistance,the newly developed coating can enhance 40% color shining level of the product.
Shimano R8020 Full set transmission Hydraulic /Disc brake system.
GUSTO Ranger Disc model equipped with the latest full set R8020 and 11-34T cassette which help saving energy while climbing.
Meanwhile, with Hydraulic Disc Brake system, the Caliper and brake lining has better braking performance compared with traditional Rim brake or Mechanical Disc Brake system. Only minor force is needed to activate the Hydraulic Disc Brake system.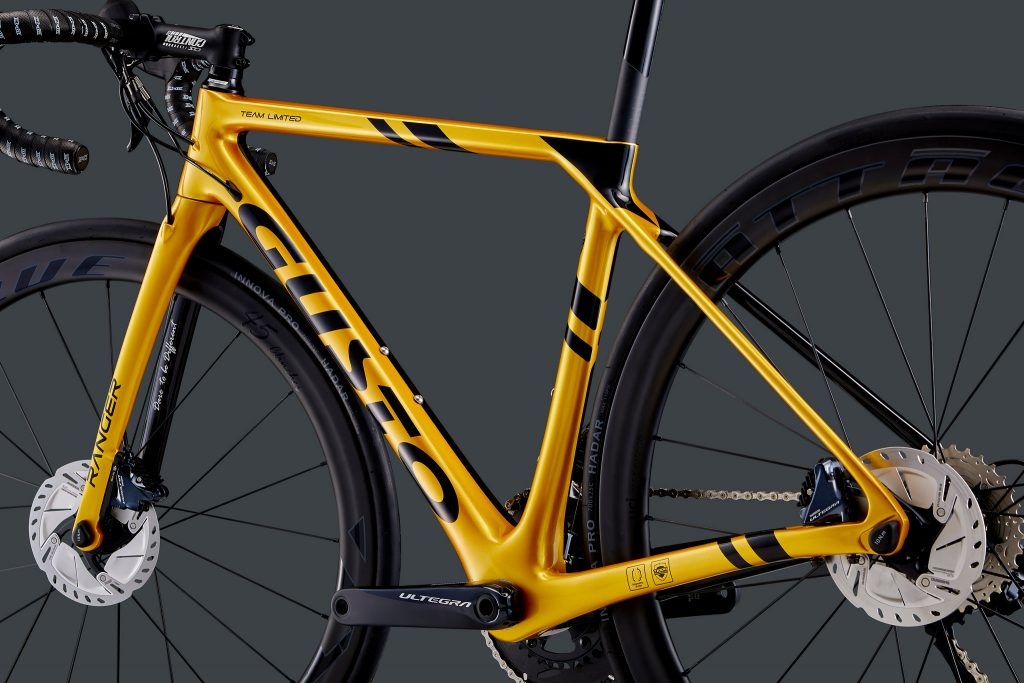 Aero Dynamic Attaque Carbon Clincher wheelset
Union Cyclist Internationale (UCI ) Approved for professional racing use.
The design of wheel set is based on Aero Dynamic analysis.
The special shape of the surface creates low wind resistance and reduces the air turbulence
Competition Grade Carbon Seatpost
RANGER DISC TL has upgraded to Carbon Seatpost, similar grade to the one use  by Gusto Professional Rider team for races.
A well-designed seatpost that improve overall riding experience and comfortability.
On top of that, the cables on seatpost are all completely hidden inside, simple cool!
Selle Italia SP-01 Boost Saddle
Short version saddle is coming in new generation, saddle on Ranger Disc, Italia premium brand Selle Italia is 100% handmade by Italia to making the Top 200 g of SP-01 BOOST saddle. Its compact shape with the innovative bevelled tip making for a wholly adaptable sit, the double-density padding just on the strategic zone of the saddle and the large cut on the centre from the Superflow technology make this saddle the newest of the last generations.
XTRM Bar Tape
Using the highest level of anti-dirty PU material, non-general foam material can be repeated scrub, 0.3mm thick design to enhance the overall comfort of the grip.